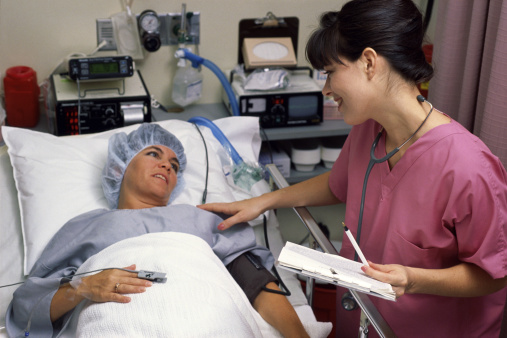 A more recent development is the establishment of managed wireless systems in hospitals and other healthcare organizations. By managed, we mean these systems are set up and maintained by a third party, because the complexities of human anatomy and physiology are quite enough to worry about without having to work out the complexities of networks and routers!
In a hospital setting, sometimes all it takes is one minute to make a life-changing difference. 60 seconds in most other settings are nothing, the mind is allowed to idle, wait for a burrito to cook in a microwave and daydream the time away with no consequence. That same 60 second slice of time could make the difference between a life saved and a life lost in a hospital.
Going wireless in a hospital gives doctors and nurse more of those minutes to potentially save lives. So how does managed wireless benefit hospitals? Here's a few ways:
Doctors can communicate with nurses quicker and they have easier, much faster access to electronic health records while they're moving around the hospital and catering to their patients' needs.
Patients receive the benefits of advanced technology that makes their experience more comfortable and safe, including smart IV pumps, smart beds, and transponders that alert medical staff in case of emergency.
Plus, increasing the efficiency of doctors and nurses and boosting morale in patients isn't just for their sake: it affects the bottom line as well. Administrators will be attracted to establishing wireless because it makes their employees more efficient and productive, which means they are getting more value out of the salaries they are paying. Also, the higher quality service will help the hospital's reputation and attract more patients if there are competing hospitals in the area.
When we look at the cost vs. the benefits, the benefits truly outweigh the costs of managed wireless:
Enhanced clinical efficiency
Increased data accuracy
Reduced medical/transcription errors
Faster workflow
If there is any kind of facility that needs to be using the very best technology this world has to offer, it is hospitals.
Looking for managed wireless services to help you enhance clinical efficiency, increase data accuracy, reduce medical/transcription errors and achieve faster workflow? Give us a call at (954) 717-1990 or send us an email at sales@laninfotech.com. LAN Infotech is happy to help you realize the benefits of managed wireless for hospitals.
LAN Infotech is a Microsoft Cloud Services Provider, IT Managed Support company and a leader in helping law firms, nonprofits and medical organizations deploy cloud solutions, manage computer networks, keep data protected and top technology management company. Businesses like yours need technology support to run highly-effective organizations.