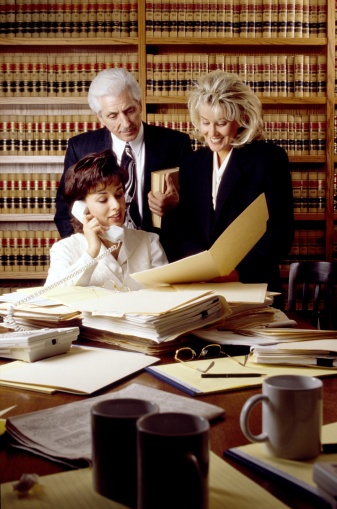 Legal Research That Fits in Your Pocket
Alas, a new way of doing legal research that doesn't require carrying around big heavy books everywhere you go. If you're an iPad or iPhone user, you'll be happy to know you can do most, if not all, your legal research by downloading an app. With hundreds of law apps, you'll have a fast growing library of legal research apps at your disposal anytime you want and wherever you want. These apps range from affordable to free, they also give value to an iPad if you're a lawyer. Research is important to all lawyers, all the time. Why not make it easier and have access to this research anytime you need it. How convenient!
Although there are hundreds of legal research apps, we've chosen a few with reviews to give you an idea of what they're all about:
The Law Guide (Free): Developed by TheLaw.com, a free legal advice website. There are over 11,000+ definitions and 300+ articles for Law Guide and FAQ's. It also includes a Lawyer directory, Legal forms, and Law journals.
dLaw ($1.99 and up): Offers a wide variety of free legal research resources including a legal dictionary, Federal Rules of Civil Procedures, Evidence, Appellate Procedure, and more. Allows you to purchase more resources including: State and Federal Codes and Regulations, the Manual Patent Examining Procedure (MPEP), and Uniform Commercial Code.
WestlawNext (Free): Allows quick access to your previous searches, contains 125 years of West's proprietary analysis of law, and you may organize your research into folders, take notes, or run on KeyCite.
RuleBook ($1,99 to $24.99): A fast and convenient way of viewing federal and state court rules. Allows you to highlight, note, and bookmark sections. You can also have access to material without being connected to the Internet, search an entire library by keywords and phrases, and always be kept up to date when rules are amended.
Cite-Checker ($2.99): A quick reference guide to formatting citations for legal memoranda of briefs and other documents. It covers federal and state cases and statutes. It also provides various rules with easy to understand examples.
HeinOnline (Free): Access to world's largest image-based legal research database. You also have access to content by citation, browse by volume, and can navigate a volume via table of contents. Full advanced-searching techniques are at your disposal.
OpenRegs (Free): Take the Federal Register wherever you go, you can find recently issued notices of proposal and final rulemaking. It allows you to browse by agency or comment periods, you can mark individual regulations with a star for future reference, and you are able to email your findings to colleagues.
LawStack ($1.99 to $9.99): This is referred to a "Legal library in your pocket", provided is the U.S. Constitution, Federal Rules of Civil Procedure, Federal Rules of Evidence, and Federal Rules of Criminal Procedure. You may download additional federal and state documents within the app.
Courtroom Objections ($2.99): Helps you make and meet objections in court, provides you with common objections and responses, gives you objection categories to review.
LawBox (Free): This app is a combination of legal reference and search utility. It has the fastest full-text legal search engine on any mobile device, and allows you to download state and federal codes. Your codes, bookmarks, and notes are stored on your device to use anytime without the Internet. They will continue to add states and updates.
FastCase (Free): This app has cases and statutes from 50 states and federal governments. It allows you to customize and sort your search results, search by citation, key-words, or browse entire statute collections. The app can be synced with desktop apps by using Mobile Sync. The app is always updated daily.
Black's Law Dictionary ($54.99): This would be one of the more expensive apps available. It has been the standard for language of law for over a century, being the most widely cited law book in the world. You have access to legal definitions at any time, and anywhere.
LAN Infotech is a Microsoft Cloud Services Provider, IT Managed Support company and a leader in helping law firms, nonprofits and medical organizations deploy cloud solutions, manage computer networks, keep data protected and top technology management company. Businesses like yours need technology support to run highly-effective organizations.