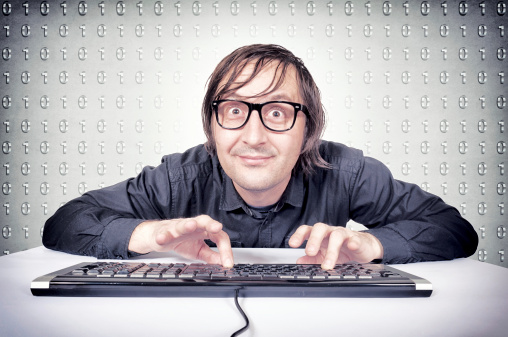 Watch out: There's a hacker eyeing up your business. To him, it doesn't matter that you're not a big fish like Home Depot or Adobe – in fact, that's what makes you such an appealing target. He hopes that means you don't have the kind of security the big corporations do. He's poking around your defences to see what's vulnerable; can he break in through your email? Maybe your firewall isn't as secure as you thought. All it will take is one small crack in your armor, and he'll be in – rooting through your files, finding confidential data, and holding your business hostage.
Scary, isn't it? But that's how cybercriminals work – they increasingly target small and mid-sized businesses these days, knowing that many don't have the kind of IT security that a larger corporation can bring to bear. What would happen if someone got in to YOUR systems? Do you store confidential information for your clients? What about credit card numbers? Are you sure you know what to do if it looks like someone is trying to break in? Would you recognize the signs?
These are hard questions, but we can help with the answers. We not only use the right products and policies for handling potential security problems, but we also work with you to analyze your business for vulnerabilities. To beat a hacker, you have to think like a hacker, and trust us – we've beaten hackers back before. Call us at (954) 717-1990 today to get a free assessment of your IT and email security.
We've seen what the hackers can do, so we've learned to think like them. With LAN Infotech as your partner, you get the full treatment when it comes to security:
Look for Vulnerabilities: We've seen how cybercriminals work, so we know how they look at a business for weaknesses. We'll look at your business in the same way – finding all the holes that could be exploited to get into your systems. That means analyzing both from within your systems, inside your software and hardware, and also from outside – trying to get in via the Internet.
Test Your Defences: Part of finding vulnerabilities is to actually try to break in like a hacker would. That can involve penetration testing (using the most common and some uncommon ways of trying to get into your systems through your firewall), or even ethical hacking (going to the full lengths that a really determined cybercriminal might go, and doing everything within our power to hack your systems). We'll find out what works, and most important, what DOESN'T.
Improve Your Armor: Once we know where you're vulnerable, we can set about improving your defences. We'll make sure you're using software and systems that are optimized for how YOU do business, so not only do you get the right kind of protection, but you also don't have to worry about being slowed down by your security. This involves both intrusion prevention and perimeter protection, ensuring your network is set up with the proper tools, commercial-grade firewalls, active data scanning capabilities, and end point protection.
Watch for Foes: It's not enough to just put defences in place and call it a day. True security demands constant vigilance. We monitor your security 24/7 to immediately identify potential threats and begin acting on them with appropriate measures. We also teach you and your staff about the common ways that cybercriminals may try to exploit you, so you'll see the signs of potential threats and know not to be fooled.
Keep You Informed: We also make sure you get regular reports on your security, so you know when and if something changes, an attack occurs, or if upgrades are necessary. We let you know about new potential threats that are revealed in the technology world, and just make sure to keep you in the loop when it comes to the security of your business.
But what we want to know is what YOU want from your IT security consulting. We've told you what our values are; what are yours? Contact the IT Security team at LAN Infotech by calling (954) 717-1990 or sales@laninfotech.com today to book a complimentary no-obligation assessment of your business' IT security. Trust us: with our team, you'll never have been more secure.
LAN Infotech is a Microsoft Cloud Services Provider, IT Managed Support company and a leader in helping law firms, nonprofits and medical organizations deploy cloud solutions, manage computer networks, keep data protected and top technology management company. Businesses like yours need technology support to run highly-effective organizations.