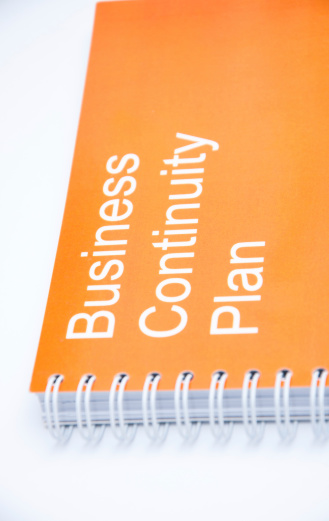 What would happen to your business if a natural disaster ruined your equipment or your employees couldn't get to the office? Most businesses would experience a significant loss in revenue and customer confidence
It's critical to have a business continuity plan in place before a disaster so you can quickly recover.
Disasters occur more often than you'd think. There are many reasons to develop a business continuity plan:
To comply with various regulations
To protect your directors from liability and your investors from financial loss
To recover business operations after a disaster
It's not only critical to plan for the recovery of your key business functions—but it's mandatory in order to comply with various legal, government, industry or financial regulations. Plus you need a tailored business continuity plan.—There's no "one-size-fits-all" approach that works for every business.  
The following are a regulations that apply to all industries:
Section 404 of the Sarbanes-Oxley Act mandates that you understand the risks that could impact your financial reporting processes, and requires you to have proper controls in place to avoid financial misconduct. You must establish an infrastructure designed to protect and preserve financial records from destruction, loss, and unauthorized use.
IRS Procedure 86-10 requires you to have off-site protection and documentation of electronic tax records.
The Foreign Corrupt Practices Act (FCPA)
The Foreign Corrupt Practices Act requires corporations to "make and keep books, records, and accounts, which, in reasonable detail, accurately and fairly reflect the transactions and dispositions of the assets."
It's important to have a business continuity plan in place to avoid legal penalties.
There are many other regulations that apply to your business depending on your industry. You can find the penalties for non-compliance by researching the laws and statutes that apply to your specific type of business.
If your company ends up in litigation after a disaster, you would have to prove that all reasonable measures had been taken to mitigate the harm caused by the disaster. A comprehensive disaster recovery plan would protect your business in the event of litigation.
To learn more about laws and statutes that apply to your business, and for a tailored business continuity plan, give us a call at (954) 717-1990 or send us an email at sales@laninfotech.com. LAN Infotech can help you ensure your data is backed up and recoverable in the event of a disaster.
LAN Infotech is a Microsoft Cloud Services Provider, IT Managed Support company and a leader in helping law firms, nonprofits and medical organizations deploy cloud solutions, manage computer networks, keep data protected and top technology management company. Businesses like yours need technology support to run highly-effective organizations.