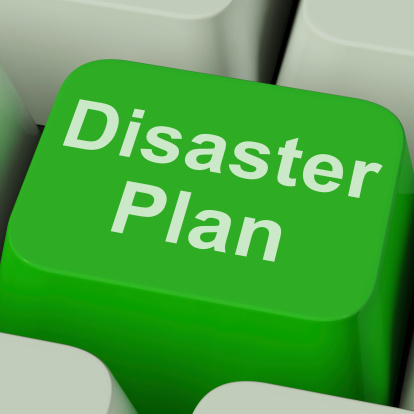 No matter what kind of business or organization you run, you need effective and secure technologies to access, process and share information.  You may believe that you are doing everything possible to ensure your IT is up to date, stored securely offsite, and is on hand when you need it.  But are you really doing everything you can do to ensure your business survives a disaster?
Here are four important questions you should ask:  
How long can you survive without your data or workspace?  You should determine how long your business can operate without access to your data.  Most businesses won't be able to do this for more than a day or two without feeling a financial pinch.  Be ready and have a disaster plan of action in place that your employees understand and can follow. This may mean that you need to set up a secondary work site where your staff can relocate if your primary site is unusable.
Have you addressed change management as a part of your mission-critical recovery objectives? Mission-critical applications change frequently. To ensure they can be restored in a timely fashion, you must conduct ongoing tests to ensure their availability. Most importantly, you must ensure your daily management tasks are in tune with your production demands. Change is constant, and you must properly record these changes at your recovery site.  Without this, your current procedures will be out of sync with your recovery capabilities.
Have you recently updated your run book in regard to disaster recovery?  Your run book is a set of defined procedures for maintaining the operations of your network. It contains all the information your employees need to perform their daily operations. Procedures defined in your run book include those for starting and stopping the system, instructions for handling special devices, how to perform backups and recovery, and more.  Step-by-step recovery procedures are a critical component of your run book and should be updated and vetted regularly.
Have you tested your disaster-recovery capabilities and ability to failback? Failback and failover are critical to any disaster recovery plan.  The failover operation switches production to your backup facility.  Failback returns production to your original location after a disaster, and saves specific data to cover any lapses.  It's imperative that these procedures are performed regularly, documented and controlled.  Plus, be sure that you have the bandwidth in place to be fully recoverable.
Can you answer these questions?  Most small to mid-sized businesses don't have the expertise in-house to properly confirm that these essentials are covered.  LAN Infotech can help.  For a complimentary, no-obligation disaster recovery assessment call (954) 717-1990 or email us at sales@laninfotech.com.
LAN Infotech is a Microsoft Cloud Services Provider, IT Managed Support company and a leader in helping law firms, nonprofits and medical organizations deploy cloud solutions, manage computer networks, keep data protected and top technology management company. Businesses like yours need technology support to run highly-effective organizations.