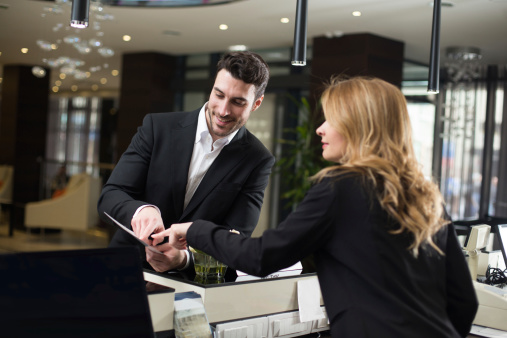 Are you a business traveler that relies on Wi-Fi to get all your work done? If so, do you find yourself running into technical difficulties often preventing you from accomplishing anything? This is a common concern when Wi-Fi is limited where you are, or just really slow.
With the use of websites like: Hotel Wi-Fi Test and SpeedSpot, it is now easier than ever to track which hotel in the area has the best Wi-Fi suited for all your business needs. These websites list tested hotel Wi-Fi speeds organized by location and let you search for the fastest Wi-Fi closest to you.
You can even download an app called "Wefi" which eliminates frustrations associated with not knowing which Wi-Fi network to connect to. With this app, you will instantly be connected to the best, safest, and faster Wi-Fi in your location.
Here is a list of the top hotel chains with the fastest Wi-Fi from the application Wefi:
Red Roof Inns (4.34 Mbps)
Sleep Inn (4.14 Mbps)
Ramada (3.69 Mbps)
Holiday Inn (3.68 Mbps)
Best Western (3.66 Mbps)
Aloft Hotels (3.42 Mbps)
Studio 6 (3.22 Mbps)
Hilton (3.17 Mbps)
Quality Inns (3.15 Mbps)
Four Points by Sheraton (3.04 Mbps)
Comfort Inn (2.99 Mbps)
Candlewood Suites (2.69 Mbps)
Radisson (2.43 Mbps)
Clarion (2.42 Mbps)
Doubletree Hotel (2.32 Mbps)
These are excellent tools for someone who relies heavily on the use of Wi-Fi to satisfy their business needs. So look no further, and consult these services prior to your next business trip. It will save you the frustration, time, and money spent on data services and will enable the productivity and success of your company!
For more information on hotel Wi-Fi network speeds consult our team at LAN Infotech we are dedicated to providing your business with the information needed to succeed. Give us a call today at (954) 717-1990 or send us an email at sales@laninfotech.com.
LAN Infotech is a Microsoft Cloud Services Provider, IT Managed Support company and a leader in helping law firms, nonprofits and medical organizations deploy cloud solutions, manage computer networks, keep data protected and top technology management company. Businesses like yours need technology support to run highly-effective organizations.