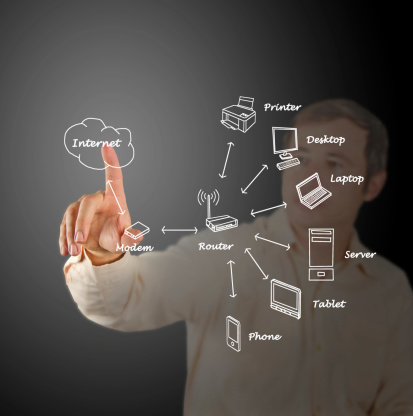 Information security is a huge concern for organizations of all kinds. While information security is critical to achieve, it's increasingly challenging to maintain. Firewalls, antivirus, access control and perimeter monitoring are important security measures, but today's sophisticated cybercriminals are finding ways to bypass them and directly target data, applications and devices. The good news is that desktop virtualization provides an important additional layer of security, especially for those who employ BYOD (Bring Your Own Device) and mobility initiatives.
The following are reasons to use desktop virtualization:
Improve Mobility and Flexibility
In today's mobile workforce, employees are working from home, on the road, and in various locations outside of the office. As a business owner, you must ensure your employees have anytime access to applications and information, as well as the ability to share and collaborate from any location. Desktop virtualization allows authorized users to securely access centrally managed virtualized applications and desktops hosted in a data center.
Prevent Data Loss
When you centralize resources in a data center, you can manage and secure Windows applications and associated data in a single location. You can also set policies to control users' ability to save, print, copy, and move data via a central point of administration.
Increase Productivity
Consumerization, combined with high-speed connections, has increased the ability for employees to work productively outside the workplace. When employees have a smartphone, tablet, or laptop for work purposes, they tend to be more productive outside of work hours as well. Desktop virtualization ensures your data is accessible to authorized users from any location they have an Internet connection.
Maintain Compliance
Desktop virtualization makes it easier to manage a wide variety of user devices by centrally controlling information in a secure data center. In this case you should establish a security strategy defining when users can copy data, add applications, access peripherals, and perform other actions that are mandated by your industry regulations. Your strategy can be set using desktop virtualization.
Saves You Time and Effort 
Desktop virtualization centralizes maintenance to simplify endpoint security. Antivirus updates and patches can be installed on a single master image then deployed throughout the organization. When you don't have to worry about installing application and security updates, you can spend more time focusing on your business.
Safeguard Information During a Disaster
When a disaster occurs you must be able to ensure that business operations continue, and data and applications remain secure. Desktop virtualization provides an efficient approach to business continuity. With desktop virtualization, you can protect a single system, rather than a wide variety of desktops, laptops, and mobile devices. This increases recovery speed while allowing employees to work remotely in the event of physical damage to your business location.
Minimize the Impact of a Security Breach
Centralized management allows you to take action in the event of a security breach. With virtualization, you can isolate sensitive data and applications and run them on user privilege accounts, which minimize the impact of the breach. If a user is compromised, you can take the user's environment offline and restore it to an uncompromised state.
To learn more about desktop virtualization, and how it can improve your information security, give us a call or send us an email.
LAN Infotech is a Microsoft Cloud Services Provider, IT Managed Support company and a leader in helping law firms, nonprofits and medical organizations deploy cloud solutions, manage computer networks, keep data protected and top technology management company. Businesses like yours need technology support to run highly-effective organizations.