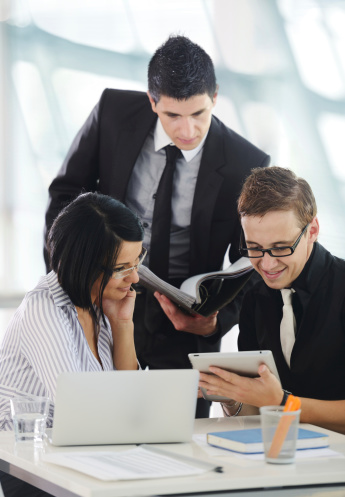 Microsoft is Expected to Unveil an Office on iPad Suite This Week!
In June 2013, Microsoft released an iOS version of Microsoft Office for the iPhone. According to ZDNet and The Verge, Microsoft CEO Satya Nadella is planning to announce the long-awaited Microsoft Office on iPad suite on March 27th at a press event in San Francisco. Microsoft hasn't confirmed the rumors. Microsoft's continue their focus on cloud and mobile computing throughout 2014.
For small business owners, the Office on iPad suite will enable staff members to use an iPad to open, create, and edit Microsoft Office files.
The Verge believes the iPad version will be similar to the iPhone version. Ultimately, the features and interface in the iPad version are consistent with the features and interface found in the iPhone version. Each user must have a current Office 365 subscription for editing, you can create and edit documents with the following apps:
The Office on iPad suite isn't too surprising, after all, Microsoft has made Office Mobile available for Android and iOS smartphones, however, an Office 365 subscription is required.
The new Microsoft Office (iPad version) will be available in the Apple Store when released.
The company is announcing Windows Phone 8.1 and the Windows 8.1 update at the Microsoft Developers conference. In addition, Microsoft plans to show an early preview of Windows 9, however, details are not confirmed.  This important event in the Microsoft software development calendar occurs immediately after Microsoft reveals the Office on the iPad in SFO.
To learn more about the Office on iPad suite, give us a call at (954) 717-1990 or send us an email at sales@laninfotech.com. LAN Infotech can help you stay up to date on the latest news about Microsoft's Office on iPad suite.
Stay tuned to our blog for more information.
LAN Infotech is a Microsoft Cloud Services Provider, IT Managed Support company and a leader in helping law firms, nonprofits and medical organizations deploy cloud solutions, manage computer networks, keep data protected and top technology management company. Businesses like yours need technology support to run highly-effective organizations.