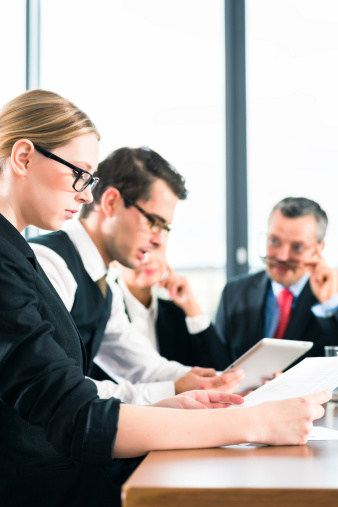 When the iPad was released it was used as a content consumption device, suitable for playing games, surfing the web, or watching videos. Now, many attorneys are using the iPad as a productivity tool to take notes, or to review and store case files. However, when using an iPad, data security must be considered.
When it comes to computers and smartphones, most law firms have security policies in place. Does your law firm have a security policy in place for iPad use? Many attorneys use iPads when on the go, which increases the likelihood of loss or theft. What can be done to protect the sensitive data stored on your employees' iPads? It's simple, create and enforce a security policy for iPad use.
The Top Five Rules To Include In Your iPad Security Policy   
1.    Set Passcodes
Do you store client data on your iPad? A passcode allows you to protect that data by adding an instant layer of security. To use this feature, open your iPad and choose "Settings," then go to "Passcode Lock" and select "Turn Passcode On." When creating a 4-digit passcode, choose something that's easy for you to remember but difficult for an unauthorized user to guess.
2.    Use the "Find My iPhone" App
"Find My iPhone" is a free app that also works with your iPad. With this app, you can locate your missing iPad on a GPS map, then remotely lock your iPad, or erase all the data residing on it. The "Find My iPhone" app will be invaluable if your iPad is lost or stolen.
3.    Use the Auto-Lock Feature
Auto-lock locks the screen after a certain amount of inactivity on the device. By using auto-lock, you can avoid the hassle of manually locking your iPad after each use. Go to "Settings" and set the auto-lock to occur after a short amount of time, preferably a minute or two.
4.    Set the Auto-Wipe Feature
Auto-wipe is a useful feature that erases the data stored on your iPad after the passcode is entered unsuccessfully 10 times. When using the auto-wipe feature, it's critical to ensure you have backed up the data on your iPad.  Do this on a regular basis to ensure data is recoverable if it's erased.
5.    Perform Software Updates
Software updates are often deployed to fix security holes. When Apple releases a software update, perform the update as soon as possible to ensure optimal iPad performance and security.
Including these "Five Rules" in your firm's iPad security policy, and heeding them, will provide an initial layer of security for your iPad. To learn more about iPad security, give us a call at (954) 717-1990 or send us an email at sales@laninfotech.com. LAN Infotech can help you ensure iPads are used to promote productivity and collaboration without sacrificing data security.
LAN Infotech is a Microsoft Cloud Services Provider, IT Managed Support company and a leader in helping law firms, nonprofits and medical organizations deploy cloud solutions, manage computer networks, keep data protected and top technology management company. Businesses like yours need technology support to run highly-effective organizations.