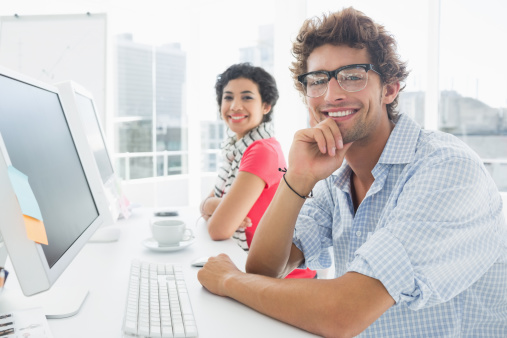 Technology in business is always changing. Pop in a VHS of any 80s movie and you'll see cell phones the size of bricks and computers with monitors the size of your car! And there was a lot of faxing: as you may have noticed, we rarely fax anything anymore. Even just 10 years ago we didn't have the plethora of gadgets and apps that we do today. Let's go over four recently released services that are particularly helpful to business professionals:
Uber (est. 2009)
Uber is much less expensive than renting a car, and this cost difference alone makes it more appealing for business professionals to use compared to the previous method of using taxis and other car services. Uber recently released Uber for Business, which offers a number of features for employers. These features include centralized billing, which allows all employees under a company to link to a single payment source, and they can even attach expense memos to eliminate the hassle of saving receipts.
Another key feature of Uber for Business is that it allows employers to track transportation costs in real time, and they can decide to cut an employee off from the company dime at any time if it seems they are using the service more than necessary.
Airbnb (est. 2008)
Like Uber, Airbnb takes a traditional business expense (lodging in hotels) and provides the same service for a fraction of the cost. Not only is the price attractive, but the service is better than what you would find at a hotel as well.
A hotel is just a series of pods, every room near identical. A stay at one of the homes and apartments listed on Airbnb is just the opposite: every listing represents a unique experience, a slice of someone's life that you get all to yourself for a few nights. If you're looking to find a place for multiple employees, you can select a place with a gourmet kitchen and a spacious meeting place to accommodate as many people as you need.
In addition to this more personal and memorable experience, Airbnb has recently teamed up with Concur to allow employers to have their expense reports pre-populated.
Dropbox (est. 2008)
Just like Uber and Airbnb, Dropbox has recently released a version of their product specifically designed for business professionals. Their Dropbox for Business service ($15 a month per user) offers as much cloud storage space as your business needs, mobile access to Dropbox for Android and iOS, unlimited file recovery, remote account transfer, and priority email and live support.
Basecamp (est. 2004, rereleased 2012)
Basecamp offers a better way to communicate with remote workers. This service is particularly helpful if you operate a website that depends on content writers to attract viewers. The easy-to-use interface includes a checklist feature that lets you keep track of just how productive your content writers are.
There's also the calendar feature that allows you to keep all of your employees aware when a certain deadline of an important event is looming.
Interested in learning more about these innovative services? Come across a great service that should be added to the list? Give us a call at (954) 717-1990 or send us an email at sales@laninfotech.com. LAN Infotech is all about simplifying the lives of busy business professionals!
LAN Infotech is a Microsoft Cloud Services Provider, IT Managed Support company and a leader in helping law firms, nonprofits and medical organizations deploy cloud solutions, manage computer networks, keep data protected and top technology management company. Businesses like yours need technology support to run highly-effective organizations.